When you're designing artwork for your merchandise, especially if you're creating something for an event or group, it's likely your designs will include text and, for that, you'll need to choose a printing font. You might not have given this much thought until now — after all, they all pretty much do the same thing, right?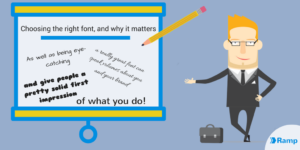 Actually, no. As well as being eye-catching, a really great font can speak volumes about you and your brand and give people a pretty solid first impression of what you do. Choosing the right one is pretty important then, but with literally thousands out there it can be an overwhelming business. So, we've put together a few tips to help you on your way.

 "…a really great font can speak volumes about you…"
Before you get started, it's a good idea to pinpoint the characteristics that make up your brand to help narrow down your search. Think about you and the audience you're appealing to: Are you modernor more retro? Are you organising a corporate venture or a fun event? Is it for kids or adults? The right choice of font will help you to communicate this, so have a think about what kind of message you want to send.
Fonts tend to have their own subtle associations that are useful to bear in mind when searching. Serifs (the ones with small decorative lines on the ends of letters) tend to be a little more traditional looking because of their editorial history, while sans serifs (without serifs) offer a cleaner, simpler shape and can give a more modern vibe. Handwritten fonts, ranging from delicate calligraphic scripts to thicker brush lettered styles, can give your designs a more personal feel, while display fonts can be great for adding quirky or attention-grabbing detail.
This might sound basic, but make sure you choose a font that people can read — especially if you're going to be using smaller text. You might really like that grungey finish but if you're printing any kind of information you need it to be readable, otherwise you'll end up with people slowly mouthing letters as they try to figure out what on earth it says. The same goes for styles with super-thin strokes. Your design might look great when you print it across a t-shirt, but will it work as well when it's scaled down on a mug?
If you want a good quality printing font then it's worth paying for one, especially if you're planning on using it across all your materials. If you're really strapped for cash there are a lot of free font sites out there but be warned, they often don't have the quality, design consideration or range of characters you might need. Plenty of type companies offer great options at prices that won't break the bank, or look for smaller foundries and marketplaces where independent creators offer their designs. Here are a few sites to try:
Finally, before you commit to buying a font, make sure you can legally use it. Different fonts have different usage rights so if you want it for commercial reasons (i.e. for merchandise that you then sell) you might need a specific licence that will allow you to use it that way. Most sites provide guidance so make sure you read the small print.
Choosing the right font doesn't have to be a daunting task. In fact, it can be a really fun way to get a feel for your own brand and how you speak to your audience. Take your time, look around, try different things, and pick something that feels right for you.
Now get designing your shirt and print it in 3 minutes at http://www.ramp.fm
Any questions?
If there's anything we can do to help, just ask in the LiveChat box, give us a call, or email us. And don't forget the free checklist below so that you have all the things you need to know before ordering custom t-shirts and more in one quick and easy document.