T-shirts design tools and tips
Need a design made to print on your shirts? Or maybe you've got a design, but you need it edited for a special event? How about removing the background so it's transparent when we print it? Of course, the best way to do it is to hire a professional graphic designer, but they don't always come cheap, so here's a few alternatives for free and cheap t-shirts design tools: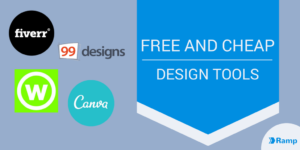 Withoomph
This neat logo design service lets you type the name of your company, and automatically generates a selection of suitable logos. You can buy the logo in print quality for about $30.

Fiverr
For $5, you can ask someone to create you a design. Given the price, you don't get much more than an image in your inbox. But if you don't have graphics software, this site is great for edits and quick fixes to existing designs.
99designs
Designers compete to work on your design brief. You can set the budget, so you always know what you're spending. Typically it can work out much cheaper than a bespoke designer.
Canva
This is a free way to create great graphics, slides, and logos, all using existing templates. And it's so easy even a chimp could do it. Probably! Some of the nicer options do cost, but even if you go crazy on them, you're likely to come away with a great design for well under $10.
And once you have your great t-shirts design, you can head straight to upload it and order in just 3 minutes.
Any questions?
If there's anything we can do to help, just ask in the LiveChat box, give us a call, or email us. And don't forget the free checklist below so that you have all the things you need to know before ordering custom t-shirts and more in one quick and easy document.