Screen Printing vs Digital Printing
We've previously written about what high quality screen printing is (and why we have thousands of happy customers through using it), but there's another type of printing that you may have heard of called Digital Printing (which is also known as Direct To Garment, or DTG).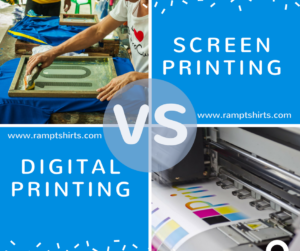 At Ramp, we use screen printing to print your t-shirts. Why? Well, we think it's the best, most tried and tested method. But let's look at DTG too.

What's the difference?
Screen printing uses a screen, which is basically like a stencil created from your artwork. Ink is then printed through the stencil on to your t-shirt in layers using special inks. Each colour requires a fresh screen to be made, which can make the setup costs quite expensive. So the more t-shirts you print, the more this setup cost is spread across them.
Digital Printing works very differently, and is a lot like a giant inkjet printer. You place the t-shirt directly into the printer, and the inks are squirted directly on to it (hence the name Direct To Garment). There are no screens involved, and therefore much lower setup costs. These inks sit on top of the t-shirt, so often need a layer of special "pre-treatment" fluid applied to the cotton before printing, to make sure they bond with the top fibres of the t-shirt, and don't just blend into it, making it a mix of the colour of the ink and the colour of the t-shirt. Blue inks on a yellow t-shirt might appear green, for example, without this pre-treatment fluid.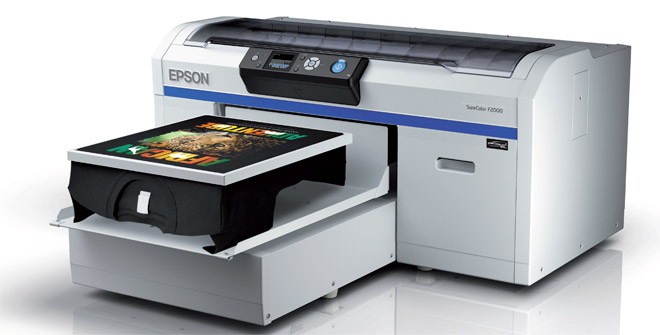 Need great quality screenprinted t-shirts, hoodies, bags or sweatshirts?

So how do the end results differ?
Screen printing inks are thicker, and so colours end up looking better and more vibrant than DTG, because the don't blend with the t-shirt colour as they can do with DTG. Also, it doesn't matter if your t-shirt is a dark colour, the colour will always be true to your original design. With DTG, colours can be muted and the definition isn't as sharp, especially on dark garments.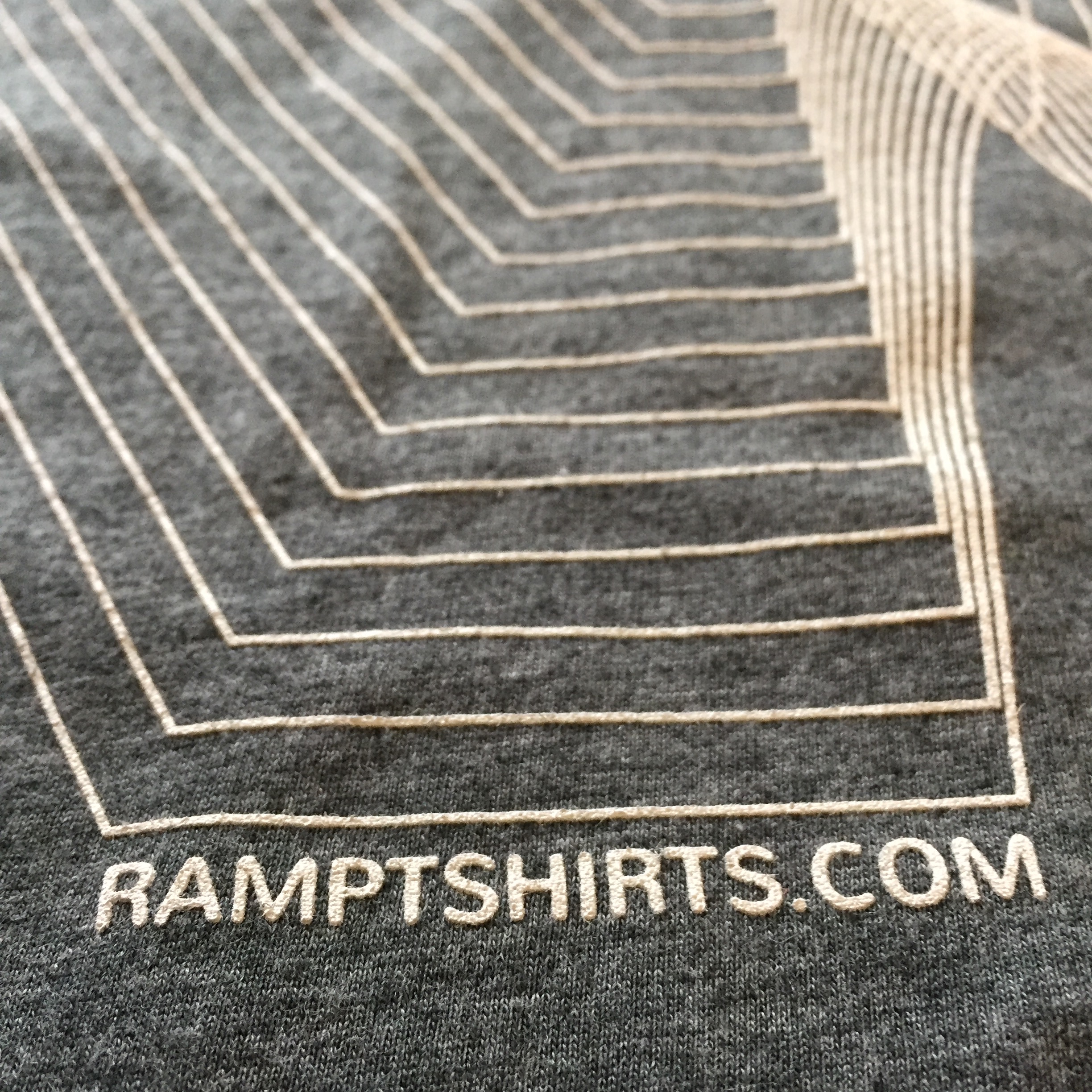 If DTG isn't as good as screenprinting, why use it at all?
DTG does have some advantages over screen printing. The main one is the lack of setup costs. That means you can print low numbers of t-shirts – even one-offs – in full colour. The flipside of that is you're never going to get the economies of scale of printing hundreds or thousands that you do with screen printed t-shirts (head to our calculator to see just how great value it can be!), because each DTG shirt requires someone to be present to change the garment, and set up the print, affecting the cost. When screen printing you pay for one setup cost, and then much of it is automated from there.
However, if you think you need DTG products, drop Neil a line on [email protected] and he'll happily help you out.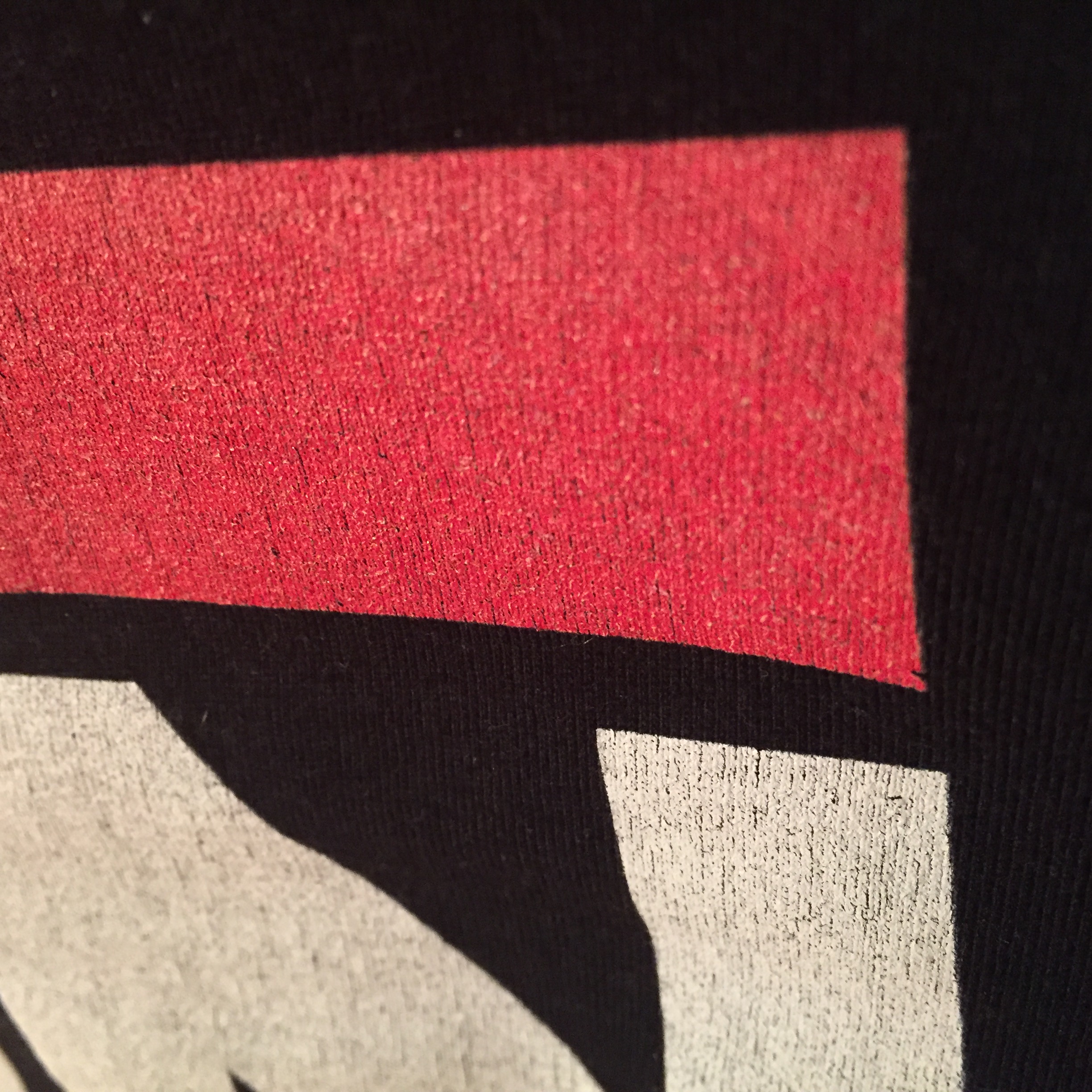 Screen Printing vs Digital Printing – generally speaking, DTG is good for low numbers of t-shirts, and Screen Printing is better for high numbers. Check this handy table for a summary: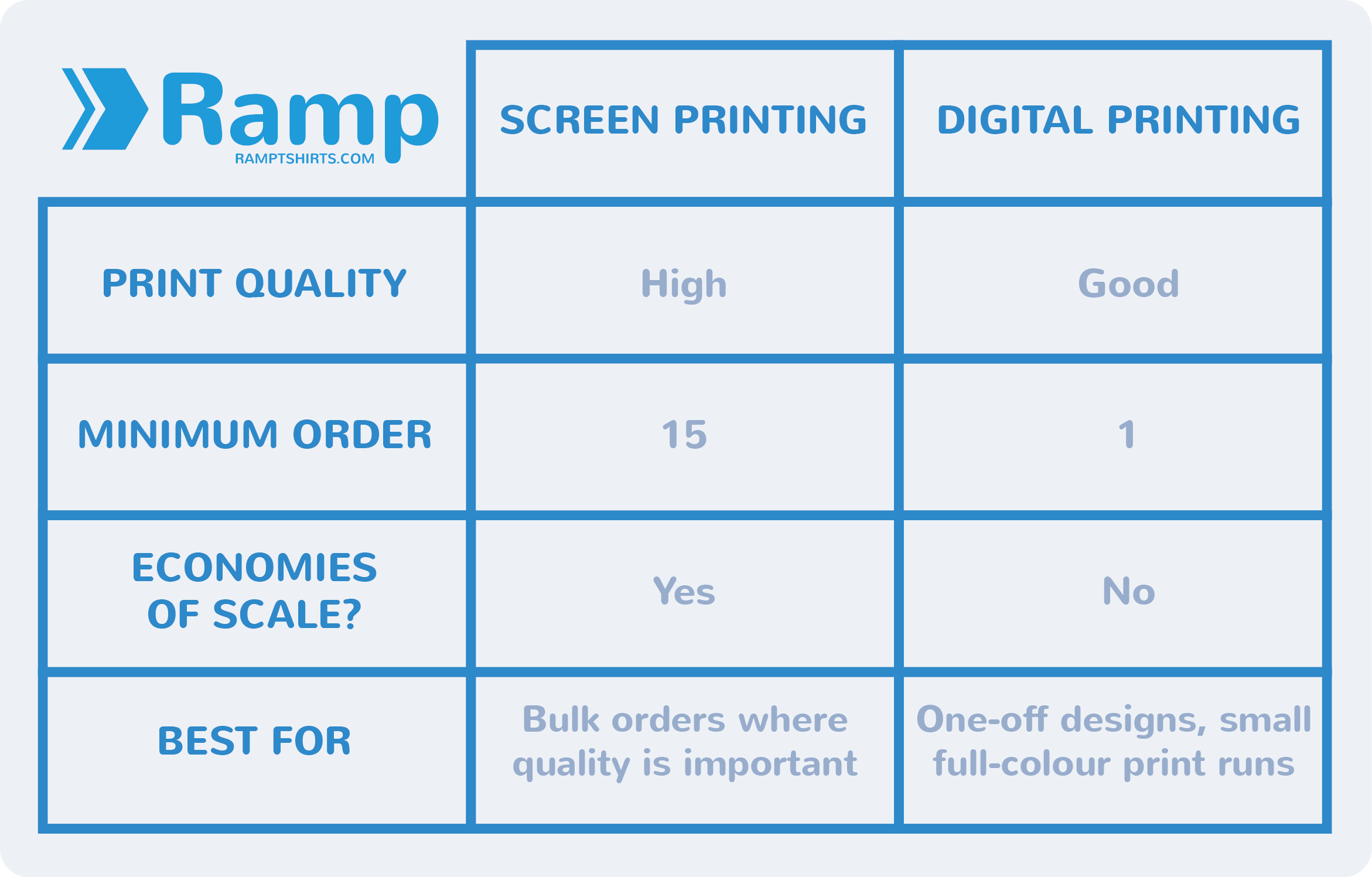 We use DTG for our sister companies, Cotton Cart and Dizzyjam. These sites let you set up an online store, and sell shirts worldwide with no costs. But if you're looking for high quality screen printed t-shirts, then we're here to help at Ramp.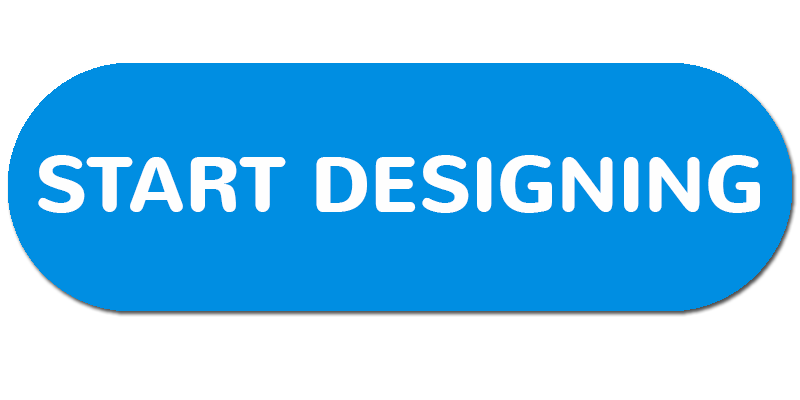 Any questions?
If there's anything we can do to help, just ask in the LiveChat box, give us a call, email us, or use the QUOTE REQUEST FORM below:
And don't forget the free checklist below so that you have all the things you need to know before ordering custom t-shirts and more in one quick and easy document.