T-shirts are an incredible tool for spreading a message of good charity causes, creating team unity, and rewarding volunteers. They are hugely visible, cheap, and reusable many, many times. They're ideal for both marketing AND team-building.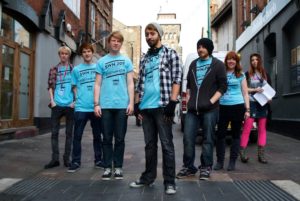 With this in mind, we want to make it clear that Ramp cares about more than just helping you order t-shirts. We love music, fairness, friends, democracy and equality. And that's why we want to use our business to help people doing good.
So, starting in March, we're launching a new project for good charity causes.
---
Every month we'll give away a bunch of free high-quality, screenprinted t-shirts to a project, charity, or organisation that is making the world a better place.
---
And each month we'll write about this organisation, and follow the story of those t-shirts – where they went, who wore them, and how they benefited the project that received them. And then we'll ask that project to nominate the next month's recipients so that the t-shirt love is spread wider and wider.

This will always cost us money (and as we grow we'll be able to afford to do it more often) but we think it's a worthy investment. We believe in the power of the humble t-shirt to make the world a better place. We hope you do too.
We're going to start with a project in Cardiff, UK, that has the perfect name.
"We Make Good Happen" is a small group of people who are encouraging the world to do good deeds, started by Matt Callanan after he was inspired by meeting Bill Murray in George Clooney's house (you can read the whole amazing story on their website!). They've left £10 notes around their city, and inspired people to buy food shopping for homeless shopping, volunteer at dog's shelters, and even threw a 100th birthday party for a lady who had no surviving family.
Over the next few days we'll be printing the t-shirts, sending them to the We Make Good Happen team, and following their story. Stay tuned!
In the meantime, please leave a comment below telling us how we can make this a better project, and perhaps a suggestion of who we can help in the future…