Today we're finding out how you increase event attendee satisfaction & attendance for just a few dollars / pounds / Euros a head.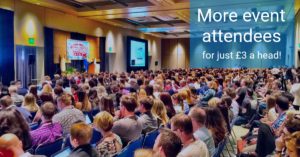 Whenever I wear my TEDxCardiff t-shirt people ask me when the next event is.
EVERY. SINGLE. TIME.
Got my @TEDxCardiff t-shirt out in preparation for tomorrow's #TEDxCardiffLive. I'm so excited I may even iron it. pic.twitter.com/EnQZqv88Av

— Neil Cocker (@NeilCocker) October 7, 2014
But I'm getting ahead of myself. Here's a few questions to ask yourself.
How much did you spend per head on food and drinks for your last conference? $10? £20? €50
How much did you spend per head on marketing to get people to your seminar? €5? £10? $20??
And how much do people speak about the catering afterwards? How much do people comment on your marketing strategies in the weeks after your event?
Exactly.
Continue reading "How to increase event attendee numbers & satisfaction for just £3 a head!"