Keeping podcast supporters happy is vital, especially if they contribute to your fundraising campaigns. So if you're wondering 'shall I get merch for my podcast', the answer is a resounding YES! Whether you sell directly to your fans, or use them as incentives for a crowdfunding campaign, you should be making £10/$10 per t-shirt.
Our CEO is a huge fan of the satirical comedy podcast, The Bugle. So much so that he's been listening to it since its inception in 2007. He still fondly remembers long-forgotten features as "Hotties From History", and "The Audio Cryptic Crossword". He would gleefully listen to it as respite from the crappy job he was forced to take before starting his next business.
The bugle and its supporters
The Bugle is hosted by Andy Zaltzman and a rotating roster of co-hosts, including Nish Kumar, Alice Fraser and Al Murray. Zaltzman's original co-host was John Oliver, who eventually left in order to devote more time to his smash HBO show, Last Week Tonight. It's an amazing podcast, and a great way to stay on top of the news, while also listening to an incredible waterfall of nonsense and half-truths.
One of their previous t-shirts was an urgent purchase for Neil several years ago (see above). It's now slightly mis-shapen and relegated to the "for sleeping in" drawer! So, we were delighted when they got in touch to ask if we could help with printing and distributing of new Bugle merch to the supporters of their crowdfunding campaign. In fact, they were the first users of our new end-to-end service, allowing customers to print with us, and get their merch sent directly to their customers.
The Bugle is funded entirely by its listeners, who make contributions to keep the show running. In return, Andy makes up "facts", or "positive libel" about everyone who donates, and reads them out at the end of each show. And the current crop of supporters have the option to get a t-shirt as part of their contribution. Neil is modelling it below, and looking far too pleased with himself.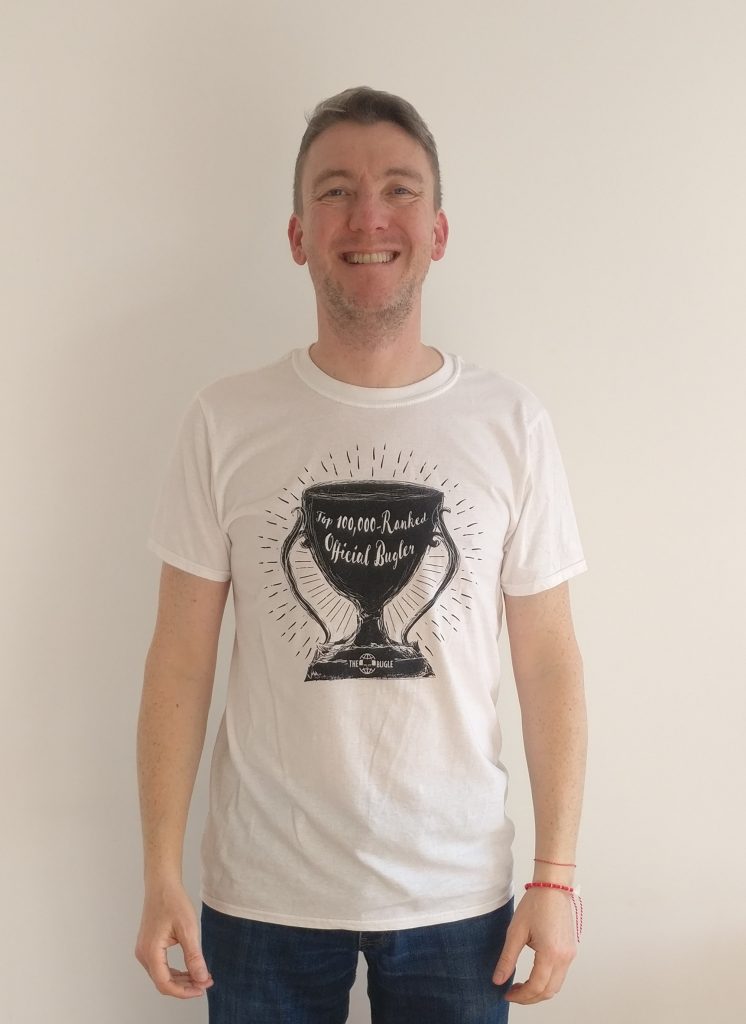 how we helped
We created an online form for all the supporters, and asked them to fill it in with their preferred colour, size, and shipping address. We then printed the exact number of t-shirts required (as well as some extras for the team at The Bugle HQ to give away to presenters, competition winners etc). Then we shipped the shirts directly to the fans around the world. From India to Indiana.
And here's some of the happy recipients….
how we can help you
With podcasts growing at a fantastic rate, and the podcasting industry expected to be worth more than $1 billion by next year, we're expecting to see ever more spent on rewarding loyal listeners with great merch.
If you run a podcast, or any other kind of supporter-funded project, drop us a line to find out how we can help! Or if you just want to know how much our great quality t-shirts cost, click here.
If you want some great suggestions for how to grow your business with merch, here's a selection of blogposts featuring some innovative case studies.