If you're wondering how companies can use t-shirts to grow their users and build a community, then you need to check out ClickFunnels. It's a service to help you build any kind of marketing funnel for your website. They've clearly thought about it a huge amount, and baked t-shirts into this part of their customer acquisition process from the very start. They're very smart in using t-shirts to get more users.
t-shirts are a huge part of how they have built a great community around their 48,000 users.
I caught up with Dave Woodward, ClickFunnels' Chief Business Development Officer, to find a little bit more about their super-smart incentive, and how it works for them.
"It's all about consumption", starts Dave. "The faster we can get them to consume, the more likely they are to get onboard and be less likely to churn [cancel their subscription in the future]".
ClickFunnels use video to onboard customers. Once you've watched a few short videos, you get a free t-shirt. The idea is by that point you're invested and hooked on what their service can do for you.
The videos themselves are brilliant. Simple, but nicely put together. They just quickly take you through the process of just how easy it is to use the service, and what it allows you to do. After just 10 minutes of watching, you're fully up to speed with what ClickFunnels is and why you should use it.
"A lot of customers don't know what to do, so these videos just bring them up to speed really quickly. They don't need to do much other than watch 10 minutes of videos, and they get a free t-shirt at the end!"
The thing I love about their process is that the ClickFunnels page is completely transparent about what's going on. This is a bribe, and they say so right at the top!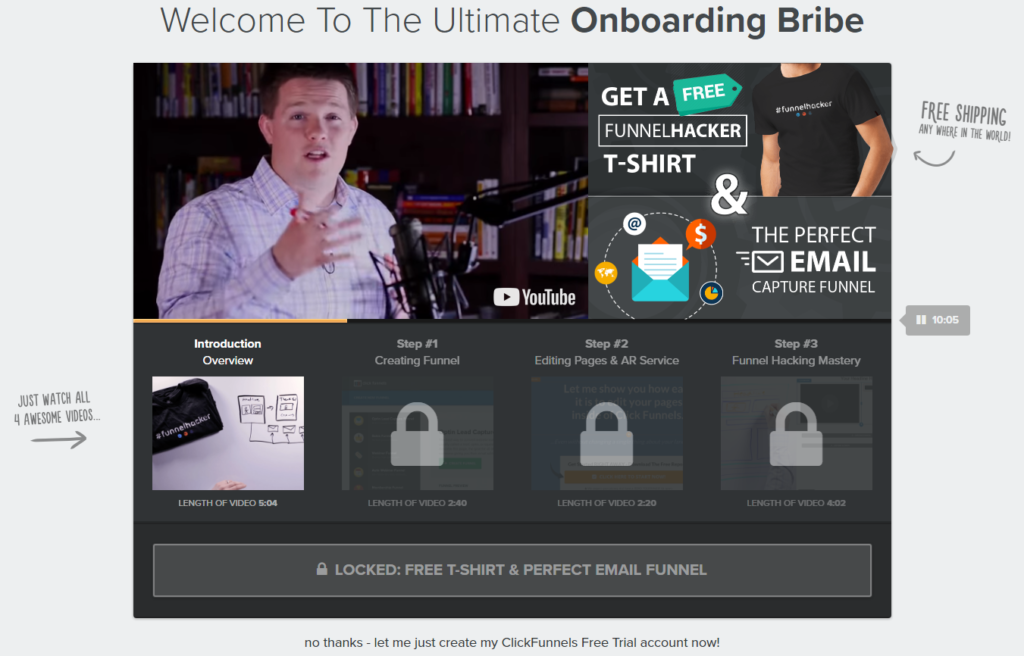 The seed for the idea came from the ClickFunnels community on Facebook.
"We started realising that being a "funnelhacker" is a thing. Something that people aspired to be. We were teaching people to hack funnels, and they just started referring to themselves that way. And that continued because the more they associated themselves with funnel hacking, the more they felt they belonged to something"
"The t-shirts help them identify with being a funnel hacker. And our community fell in love with it and just kept asking about them. Since then we have added multiple t-shirts for different actions our members take. This has been so effective that many of our customers have an entire wardrobe of t-shirts. One for every day of the week"
Got My #FunnelHacker Shirt!? Really Excited @russellbrunson @clickfunnels #DotComSecrets pic.twitter.com/5mdqPeQ38T

— Ken Hayes (@E2EMindset) January 4, 2016
So, why does ClickFunnels believe in the power of the t-shirt?
"People love wearing things that associate them with a brand or experience they believe in. It's almost as if nothing is more exciting – they wear it as a badge of honour. My wife is a marathoner, so has a huge collection of official race t-shirts that she wears with pride. It's the same thing. It's something that they proudly wear that speaks to who they are as people."
"We went with a higher quality shirt. We didn't want them to be disposable. We wanted something that they would want to wear. And our customers are proud to show off our product not just because they're proud to endorse, it but also because they're good conversation starters. Some of our partners even use it as a legitimate lead generation tactic!"
This is a smart decision. Although we all have to make tough decisions based on the budget available to us, a slightly nicer t-shirt can be the difference between it being worn a handful of times then being consigned to the "for sleeping in" pile, and it being a weekly wear that gets seen thousands of times more by the colleagues, associates, and fellow delegates of the wearer.
Got my #funnelhacker shirt on today #marketing #clickfunnels #sales #salesfunnel #russellbrunson pic.twitter.com/cp09wbTJbv

— Zayden (@_elGuapoJr) June 15, 2017
Not only do they send t-shirts out to new subscribers, they use t-shirts as part of their conference and events strategy, too.
"We recently used them at conference to incentivise people to upgrade on the day. We had these great t-shirts that said "We Are Not ConfusionSoft", which was making fun of a competitor of ours. People went nuts for them. We even had a different colour for each day".

The interesting thing here is that although they don't explicitly measure ROI (more on that shortly), if you can encourage customers to upgrade in a service that has tiers that run to nearly $300 with a t-shirt that probably cost no more than $10 or $12 each, you're definitely doing something right! This all ties in to the psychology of reciprocity. As human beings, if we're given something, we're hardwired to want to give something back. In this case, it's often our cold, hard cash!
Should I be this excited over a t-shirt? @clickfunnels #funnelhacker pic.twitter.com/WwMN3z9EKA

— Sam Bearfoot (@iamSamBearfoot) April 21, 2017
To finish off, i asked Dave if there was anything that ClickFunnels would do differently with their t-shirts.
Not really. We have 48,000 customers, so it can get kind of expensive! We give away hundreds of thousands of dollars of tshirts a year. But it's definitely worth it. Although we don't measure an exact return on our investment from these shirts, we know that it's definitely worth it from the way people respond to the t-shirts and talk about them. It creates a following, and that is enough value for us. We see them around all the time. At meetups, conferences, and online. If we didn't see them, then I'd worry!
Want to get yourself a ClickFunnels t-shirt in return for watching 10 mins of video? And even better, sign up for their great service! Then head straight to their site.
But if you want to I follow their example and build a community of thousands users, order your custom t-shirts or hoodies HERE or use the QUOTE REQUEST FORM below:
Or sign up for a free webinar with our CEO to get more amazing tips and tricks to building your business through t-shirts, hoodies and more!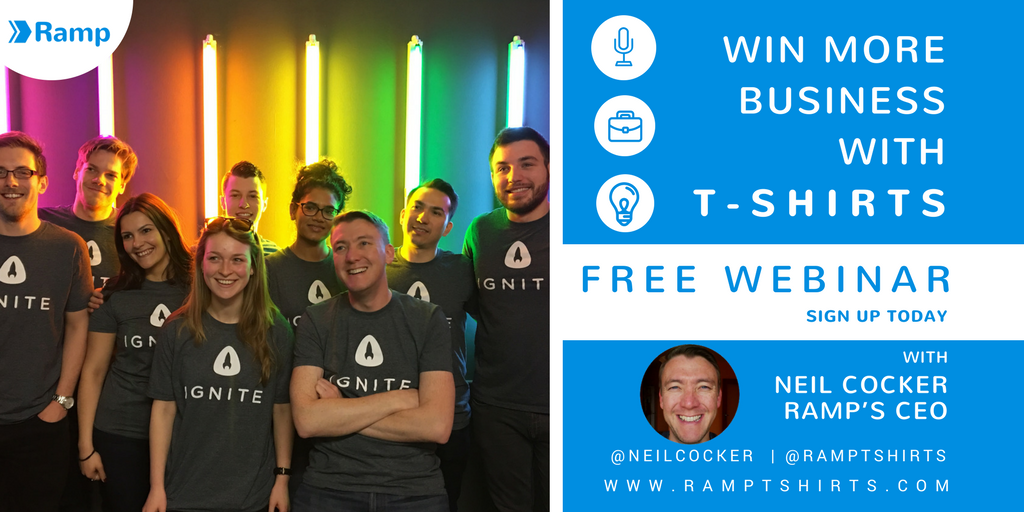 And to finish off, here's a few more tweets and Instagrams from happy Funnelhackers!
Got my @clickfunnels shirt. Yeah! #FunnelHacker pic.twitter.com/aNxsWdnDhI

— David Pinkleton (@davidpinkleton) June 13, 2017
Got my clickfunnels T-shirt today.
#http://onlinemoneysuccess.club/clickfunnels pic.twitter.com/un2q2RdHV4

— Ivan katabula (@IvanKatabula) February 13, 2017