Ramp For Good #1
You may remember that we recently launched Ramp For Good, our project to support organisations doing great work in their communities. By providing free or heavily subsidised t-shirts we hope to help improve their ability to be visible, raise funds, or promote themselves.
Early last week we were in the final stages of organising our next shipment of t-shirts to an organisation making the world a better place. Suddenly we got a message out of the blue from a small group of people in Manchester. They were organising a 24hr marathon of back to back matches. Their cause was to raise funds for the victims of the awful murders of people at the Ariana Grande concert in their city. They needed Manchester Marathon Match t-shirts for the volunteers who would be helping them run the event.
We normally let the previous recipients have a say in who should receive the next batch, but in this instance it was a no-brainer. They needed the shirts in just a matter of days. We thought what they were doing was so amazing that we just had to say yes there and then.
The Manchester Marathon Match brought people from all over the area (and the country) to play in a non-stop series of short games. Each team had to raise a small amount to take part, and all that money went to the Manchester Emergency Fund. This whole event went on for 24 hours, non-stop!
There were teams of kids, adults, and even celebrities taking part, such as Paul Scholes, and boxers Terry Flanagan and Anthony Crolla.
Here's some great Instagram pics of the day from @coops_copa_coach.
It looked like it was an exhausting, but brilliant event. We spoke to one of the organisers, Mike Melvin, a few days before the event. It sounds like it was a real community-driven initiative. A group of people moved to do something, and everyone pitching in to make it happen.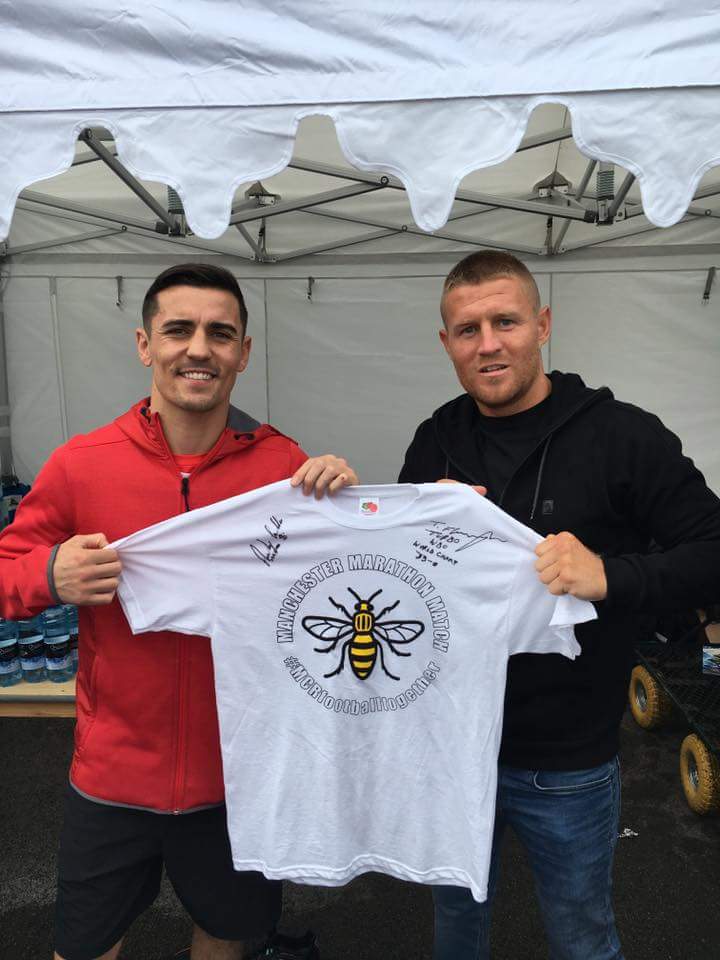 At the time of writing they have raised over £42,000 for the Manchester Emergency Fund, which has a total of nearly £1.5m in donations so far. The fund will "support people who have been injured or bereaved by the attack. The donations will help alleviate suffering and ensure that victims and their families do not face short-term financial difficulties".
You can check out the closing ceremony and some great photos in the video above. And, if you want to contribute you can donate to the Manchester Emergency Fund any time. Everyone could help the victims and families of those affected.
Finally, the Manchester Marathon Match t-shirts were such a success! Even the team behind the event are now selling them direct to those that want them from our sister-site, Cotton Cart. Check out their t-shirts right now.