At Ramp we're big fans of Hotjar. We use it to tell us where we're "losing" people on our website, and where they're clicking, so that we can make things clearer, simpler and more efficient.
Nick Heim, their Director Of Marketing described it to me as "the closest thing to telepathy for your website", which I thought was a pretty cool description!
I'd caught up with Hotjar because we were intrigued by the way they used free t-shirts to incentivise referrals, and drive thousands of new sign-ups. We thought it was really smart…
"We launched a super-simple referral program a few years ago, and it's remained unchanged since then", said Nick. "It's a gamified system that simply rewards people with swag for sending new users our way. If you refer 5 users to Hotjar, we'll send you a free t-shirt. If you're in the top 5 referrers of that month, we'll send you a hoodie!".
Do you do anything other than the referral program?
"We also use them to incentivise users to fill in surveys. It gives us great insights. If we have a really small segment of people that we want to hear from, we offer a t-shirt or even a hoodie to every single one of those people. It's super-targeted feedback for the cost of a few hundred dollars, and that's great value".
Thank you @hotjar for this super comfy t-shirt. It came as a Xmas gift! Now I'm ready to do some analysis. pic.twitter.com/7u39l4c5lk

— Lukáš Kakalejčík (@lukaskakalejcik) December 27, 2016
Why does this work for Hotjar?
"Well, you have to keep in mind your target audience and cater to them. If you want to attract the attention of C-Suite executives, maybe hoodies aren't the best thing. Maybe golf swag! But when it comes to startups and developers, well-designed t-shirts are definitely in the sweet spot".
Yup, we've seen people go crazy for free t-shirts! And how do people respond?
"People really love receiving something tangible from a brand that they're behind and it's also a great type of passive marketing that runs in the background. People wear t-shirts for months or years, and this contributes to the marathon of brand building. So if you believe in your product, and that it will still be here in five years time, then it's definitely worthwhile."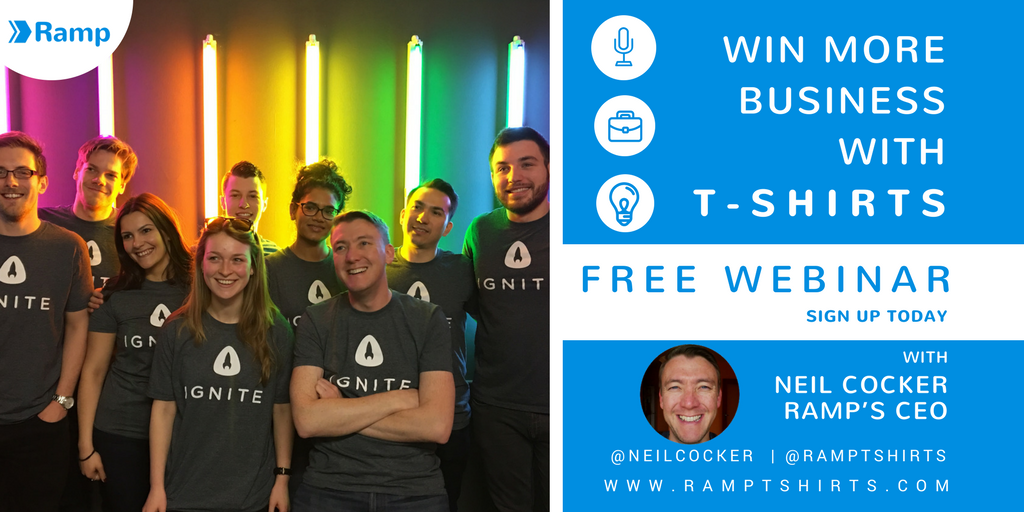 On that note, how do you measure return on investment, particularly for the referral program?
"Honestly, it's difficult. Word of mouth works well for us, and this is an extension of that. Measuring the offline impact of marketing is almost impossible, but with people posting about them online, and wearing them to events and in the office, it's a great addition to the brand".
I suppose you can assign a cost to each t-shirt and a value to each sign-up to do that calculation, but who knows how many offline "impressions" they get, and conversations they start, right?! It's definitely difficult, but really worth thinking about. (Editor's note – we've actually written about how t-shirts are better value than online adverts!) And on that note, is there anything you'd do differently, or you'd advise against?
@hotjar Ty for the t-shirt ? pic.twitter.com/UGeQ9I7OM5

— Sem Schilder (@xvilo__) November 12, 2016
"If you have a gamified system like us, you definitely need to pay attention to potential abuse, which is something we still need to get better at. We've possibly given away a lot of t-shirts to people who haven't appreciated them, or to people who haven't sent us the best quality referrals just to get the free swag."
"Also, it's definitely worth re-appraising and refreshing your strategy on a regular basis, and not allowing it to become stale. A quick change in design, for example, is all it takes to keep people engaged."
"Finally, look at levels of rewards – A free t-shirt for sending a few referrals. Then a hoodie for being among the best referrers. Then perhaps a free lifetime account for your super-referrers. It all keeps people engaged and incentivised to send more users your way".
 Thanks to Nick and the
Hotjar
team for their great product, and their fantastic insight. One of a growing number of companies using the power of
tshirts
to get new customers!