All businesses want to create a sense of uniformity and brand recognition. They also want their message and brand to be widely spread by their team and their customers. What better way to do it than through the use of custom business slogan t-shirts?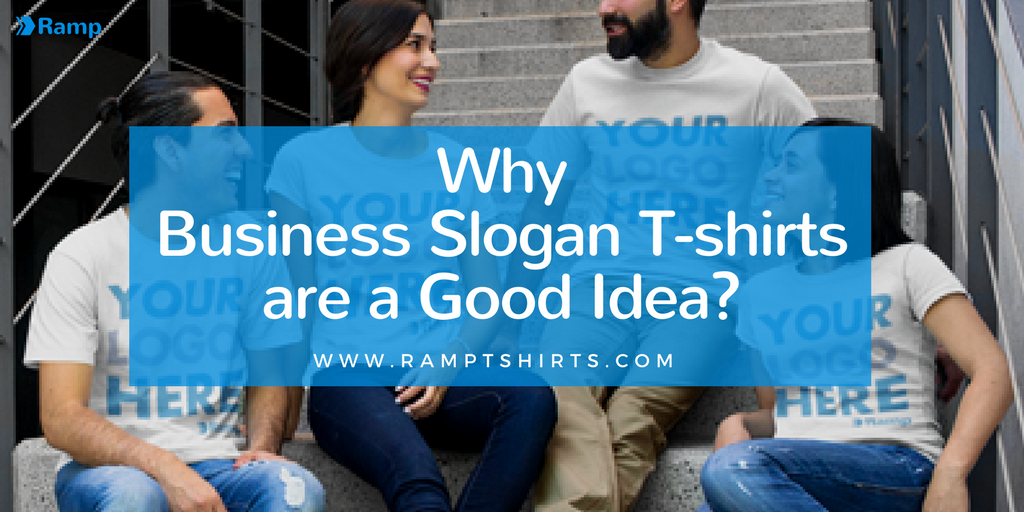 Now, we get it. "Business slogans" don't sound like the most exciting artwork for custom t-shirts, but it's ultimately all about the appeal and message of your slogan. Get it right and it can be hugely memorable.
Questions to ask yourself.
Is it short?
Does it stand out?
Is it broad in meaning and applicable to more than just your business in particular?
Importantly, will people want to wear it!?
All of these things need to be taken into account if you're thinking about team t-shirts or logo t-shirts for your business.
For example, if you run a  florist you probably shouldn't get the phrase "Bringing lovely flowers to the people of Birmingham and the surrounding counties" printed on custom t-shirts. Unless perhaps you want your staff to wear them as official team t-shirts. This makes more sense, though the slogan is stiff, cumbersome, and uninteresting to read. As a slogan it inspires no energy, engagement, or interest. It's just a statement of fact, and bare facts are rarely inspiring!
Nike's slogan t-shirts for customers and employees
On the other hand, however, you only have to look at a company like Nike to see the sheer power of the slogan. Every time I go to the gym I am overcome with quasi-inspiration from the sea of spandex that is shouting "JUST DO IT" at me from all across the room. This is an example of business slogan t-shirts that appeal to both their staff and their customers. "JUST DO IT" is synonymous with Nike, yet it is a vague inspirational quote with a multitude of possible meanings.
Other popular slogans on a t-shirt
Other notable examples of clever custom t-shirts include the "Choose Life" slogan t-shirt (made popular by the film "Trainspotting"), and the infamous "Frankie Say Relax" slogan t-shirts that litter the streets.
MC Donald's slogan t-shirts for employees
When it comes to staff uniforms, clever slogans and logo t-shirts it's easy to add that sprinkle of professionalism and image that many businesses unfortunately lack. Wouldn't it be weird if you turned up at McDonald's and saw their staff members wearing plain shirts instead of team t-shirts emblazoned with the famous golden arches and cries of "I'm lovin' it" emanating from their bodies?
Team t-shirts and slogan t-shirts are the kinds of things that become subconsciously linked in our brains over time, whether the custom t-shirts are intended for staff, customers, or both. This is the sort of thing that white-collar types would call "brand awareness" and "brand visibility", and although it sounds boring, business slogan t-shirts can have a great effect on your business over time.
What slogan represents your business, and that you and your customers would be proud to wear?